iQIYI's DRM-S Completes Cartesian's Farncombe Security Audit®
The Farncombe Security Audit® is recognized by studios and sports right holders worldwide as a measure of a solution's suitability to protect premium content
iQIYI, an innovative market-leading online entertainment service in China, announced on Mar.4 that DRM-S, iQIYI's software Digital Rights Management solution, has successfully completed a security review by Cartesian, an independent expert specialized in content security-related issues for the digital entertainment and media industries. The iQIYI DRM-S is a scalable, flexible, and secure solution that protects the security of the content being streamed on iQIYI platforms on iOS and Android mobile devices.
Cartesian's Farncombe Security Audit® is an independent, industry-recognized methodology for reviewing the security of content protection technologies and end-to-end video platforms. For over 20 years, Cartesian has been performing security reviews that meet the rigorous standards of the major Hollywood studios. The review of iQIYI DRM-S examined its system architecture and its materials handling capabilities, as well as its business processes, client device security, and end-to-end implementation. The audit also benchmarked iQIYI DRM-S' end-to-end system design, messaging security, and anti-piracy response to a strict standard, and it found that the overall security of iQIYI DRM-S is close to the best that can be achieved by a software DRM that supports a broad user base accessing the platform from a wide range of devices. As such, iQIYI DRM-S is well-equipped to protect premium HD content.
The below Farncombe Security Audit® Mark is an assurance that a security audit has been completed and a trusted Cartesian audit report is available.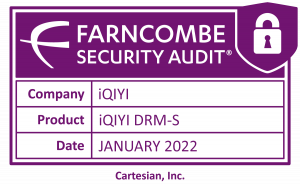 iQIYI has been developing its own digital copyright protection technologies since 2013. The company makes continuous and industry-leading breakthroughs in software DRM solution, encryption and decryption, digital watermark technology and other fields, and it has established a comprehensive copyright protection system that effectively protects content copyrights – ensuring the security of the source video, user-end protection, and piracy tracking. As the technology can easily be integrated with iQIYI's existing content system, it helps reduce cost and improve efficiency. iQIYI's DRM system passed the ChinaDRM Lab security assessment in 2018, and iQIYI's Android app passed a security assessment by Dutch security lab Riscure in 2019.
About Cartesian

Cartesian is a specialist provider of consulting services and managed solutions to leading players in the global communications, technology and digital media industries. Linking technology and innovation, Cartesian helps its clients to find growth and achieve more. Cartesian's content security services include anti-piracy investigations services, watermark robustness testing, credential sharing detection and prevention, contract compliance testing, geo-blocking testing, and the Farncombe Security Audit®. Clients include TV broadcasters, content distributors, equipment vendors, and network operators. The company has offices in Boston, Kansas City, London, New York, and Paris. For more information about the company and its services, visit www.cartesian.com.
About iQIYI, Inc.

iQIYI, Inc. is an innovative market-leading online entertainment service in China. Its corporate DNA combines creative talent with technology, fostering an environment for continuous innovation and the production of blockbuster content. iQIYI's platform features highly popular original content, as well as a comprehensive library of other professionally-produced content, professional user generated content and user-generated content. The Company distinguishes itself in the online entertainment industry by its leading technology platform powered by advanced AI, big data analytics and other core proprietary technologies. iQIYI attracts a massive user base with tremendous user engagement, and has developed a diversified monetization model including membership services, online advertising services, content distribution, online games, live broadcasting, IP licensing, talent agency, online literature, etc.