BEIJING, Dec. 2, 2018 -- At the China Internet Audiovisual Conference in Chengdu, iQIYI Inc. (NASDAQ: IQ) ("iQIYI" or the "Company"), an innovative market-leading online entertainment service in China, unveiled the world's first virtual AI/AR sign language interpreter, allowing hearing impaired watchers to enjoy iQIYI's content with a much greater level of ease.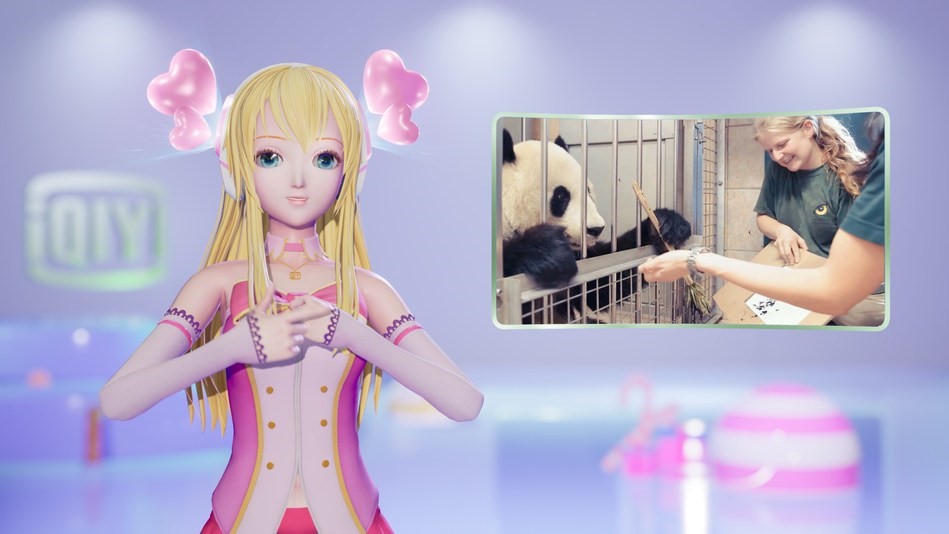 The new technology uses onscreen 3D avatars which are able to interpret speech within video content into sign language understandable by hearing impaired users. The look of the avatar interpreters is derived from iQIYI's IP, and they can be customized to suit the needs of different scenarios and content. Using deep learning, the avatars will be trained and improved over time to deliver ever more accurate and precise sign language interpretation.
According to China's National Survey of Disability, hearing impairment is the most common disability in China, experienced by an estimated 1.67% of the population. iQIYI's sign language interpreter offers a new paradigm to accommodate this disability by using Automatic Speech Recognition Technology (ASR) and Natural Language Processing (NLP), able to parse individual words while employing AI to impose sign language grammar.
"iQIYI is proud to present our AI sign language interpreter, which will revolutionize the entertainment experience for our hearing-impaired users, leveraging the power of AI for the disabled," said Xie Danming, Vice President at iQIYI. "iQIYI is committed to bringing the very best in entertainment experience to all our users, and we go the extra mile to make sure disabled users receive the help they need to make this a possibility."
Aside from its originally produced programs, iQIYI has future plans to integrate AI Sign Language Interpreters into news broadcasts, weather forecasts, and more, constantly working to better meet the needs of hearing-impaired users.
About iQIYI, Inc.
iQIYI, Inc. (NASDAQ: IQ) ("iQIYI" or the "Company") is an innovative market-leading online entertainment service in China. Its corporate DNA combines creative talent with technology, fostering an environment for continuous innovation and the production of blockbuster content. iQIYI's platform features highly popular original content, as well as a comprehensive library of other professionally-produced content, partner-generated content and user-generated content. The Company distinguishes itself in the online entertainment industry by its leading technology platform powered by advanced AI, big data analytics and other core proprietary technologies. iQIYI attracts a massive user base with tremendous user engagement, and has developed diversified monetization models, including membership services, online advertising services, content distribution, live broadcasting, online games, IP licensing, online literature and e-commerce etc. For more information on iQIYI, please visit http://ir.iqiyi.com.